Located just off of Interstate 40 at the north park entrance, the Painted Desert Oasis offers a variety of goods and services to park guests including Painted Desert and Route 66 memorabilia.
The Painted Desert Diner serves up a variety of high quality food selections for the entire family. From cheeseburgers and hot dogs to veggie wraps and pulled pork sandwiches, there's something for everyone.
Open 9am – 5pm (AZ MST)

Closed on Christmas Day
GAS STATION / CONVENIENCE STORE
Our gas station and convenience store are here to serve you with fast and friendly service. No need to worry about your petro while you visit, use our pay-at-the-pumps anytime the Park is open.
Open 8am – 6pm (AZ MST)

Closed on Christmas Day
PAINTED DESERT OASIS GIFT SHOP
The Painted Desert Oasis Gift Shop offers visitors a wide variety of unique and traditional gifts – including petrified wood, which is legally obtained from private lands and offered for sale in hopes of lowering the chances of illegal collection from within the park.
Open 8am – 7pm (AZ MST)

Closed on Christmas Day
Hungry and on the go? We've got you covered with tasty selections of sandwiches, salads, yogurt cups, and more all wrapped up and ready to travel.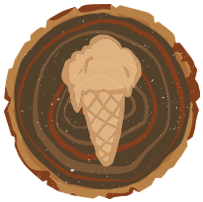 ICE CREAM
(Painted Desert Inn)
NOW OPEN
Memorial Day – Labor Day
Open 11am – 3pm (AZ MST)